My Profile Overview
My Profile is the hub of your personal information within the QuantityWare Portal. It provides you with an overview of the information we hold on you alongside your system settings and allows you to modify all of these.
Accessing My Profile
You can access the Customer Profile as follows:
Click your name in the navigation menu (to the top right)
Select "My Profile"
The screen is split into two tabs:
Portal Details – View and edit your name contact details, change your password or request a new Portal username
Portal Roles – View a list of all roles you have across all organisations
Changing Your Contact Details / Password
To edit your Contact details, or change your Portal password, follow these steps:
Set your password, if required
Edit your Contact Details (names, phone numbers etc), if required

Click "Save Changes" in the Action Bar
Requesting a New User Name
Your Portal user name is the email address associated with your account.
For your security, we do not allow people to directly edit their Portal user name. This prevents malicious actors from editing your account login details without your knowledge.
If you need to change your user name – for example your organisation may have changed their domain name following an organisation name change – you can request a change as follows: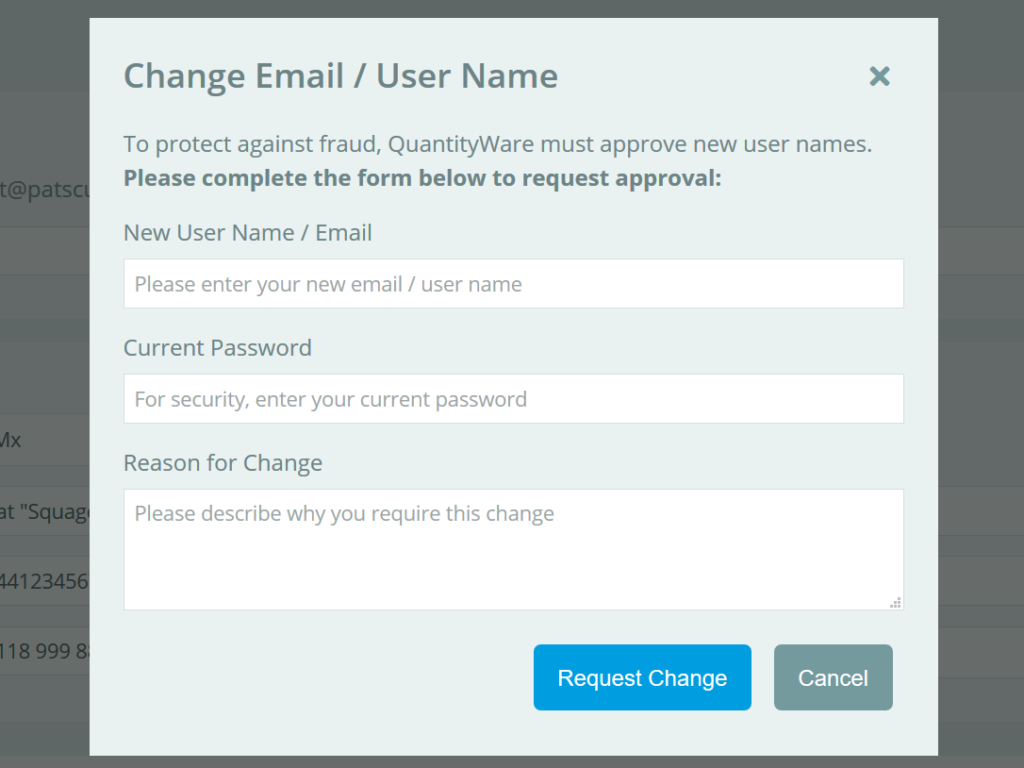 Click on "[Change…]" next to the "My Email / Username" field
The "Change Email / User Name" window will appear (see right).
Enter your name email address
Confirm your current password (for security)
Provide a brief description of why the change is required
Click "Request Change"
A ticket will be raised with the QuantityWare team, who will review your request and, once the change has been made, you will receive a confirmation email (to your new email address).
Use Old User Name Until Approved
While QuantityWare are reviewing your user name / email change request, you must continue to use your existing, old user name / email to log in to the Portal.
All communication from the Portal will occur via the old user name / email until the request is approved.
Portal Settings
Since Portal V6.9.0 you are able to configure Portal settings using the new "Settings" tab in My Profile.
Ticket Attachment File Name Format
You can choose to include the Ticket number in the file name of any downloaded Ticket Attachment. This can be useful to keep track of the source of downloaded files.
Available file name formats are:
File Name.txt (default)
#1234 – File Name.txt
[Ticket 1234] File Name.txt
To change the file name format:
Select the "Settings" tab
In the "Attachment File Name Format" section, choose your desired file name format
Click "Save Changes"
The change takes effect immediately for any attachments you download. You can return My Profile to change this at any time.