Customer Profile Overview
The Customer Profile is the hub of your organisation's information within the QuantityWare Portal. It provides an overview of various pieces of information we hold on your organisation and provides links to the various customer data management screens that allow you to keep your systems, contacts, reminders and contract up to date.
If you have appropriate access, you can use the Customer Profile to set your organisation's BCS software level, which is used as a filter in the DataLounge so that only relevant software / CSPs / notes are presented to you.
Accessing the Customer Profile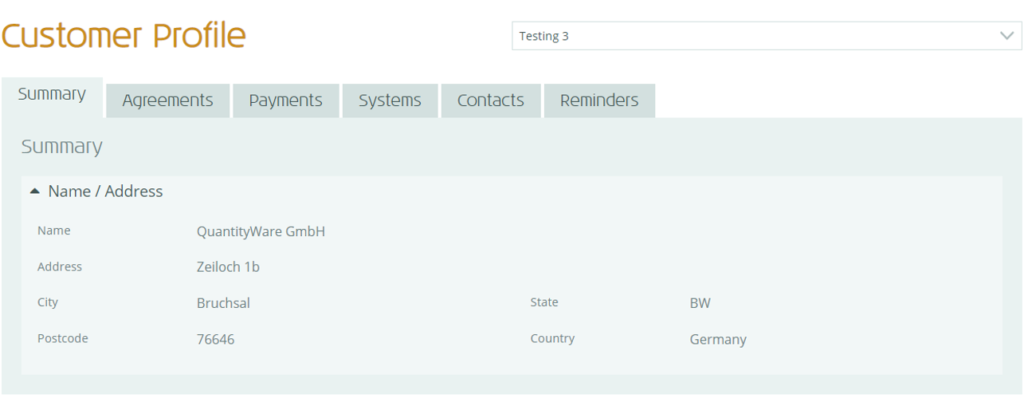 You can access the Customer Profile as follows:
Click "Customer" in the navigation menu
Select "Customer Profile"
The Customer Profile will be displayed, as shown to the right:
Depending on your portal role, some of the above tabs may not be available. Each tab provides certain information / functionality:
Summary – View the name and address that we have on record for your organisation
Agreements – View a summary of the current, previous and upcoming agreements / contracts you have with QuantityWare, including the start/expiries, scale, complexity, productive software and status
Systems – View a list of all systems in your organisation that have QuantityWare usage keys
Contacts – View contact details of the people in your organisation with roles on the QuantityWare portal
Reminders – View a list of people in your organisation who receive reminders from the Portal (and the days where reminders are sent), for agreement expiries, usage key expiries and invoices
Questionnaires – View a summary of any current and previous Usage Questionnaires submitted for your Customer, and open each questionnaire to view all answers and results