Contacts Manger Overview
The Contacts Manager provides your organisation's management and customer administration team members with a method to grant or revoke roles to other team members within your organisation.
When your organisation's customer record is first created in the Portal, only those individuals requested as per the TLRF (or via discussions with QuantityWare) are granted roles in the Portal. This screen allows those with "Management" or "Cust. Admin." Roles to delegate roles to other trusted team members (and revoke roles from team members no longer requiring access).
Accessing the Contacts Manager
You can access the Contacts Manager as follows:
Click "Customer" in the navigation menu
Select "Contacts Manager"
The screen is loaded and is displayed as shown to the right.
Each "Contact" (team member) within your organisation, which currently has one or more roles within the Portal is shown on this screen.
Specific contact details are provided for each of the contact's roles. This can be useful if a team member represents more than one department, and they wish to use that department's shared phone number / email address for any inquiries from QuantityWare.
Roles can be added / removed from the Contacts listed, and additional team members may be added if required (see Requesting Contact Role Changes below).
Further details on Portal roles and the access provided for each are shown in Portal Roles.
Requesting Contact Role Changes
The Contacts Manager allows you with the flexibility to request any changes to your organisation's contact roles – from editing existing contact roles to adding new team members and removing team members form the Portal.
To make your request, you first perform any changes to the contact records (editing existing contact's roles, adding new contacts, deleting contacts) and then raise the request based on these changes.
Details of these steps are shown below.
Mandatory Roles
Your organisation must always have at least one team member assigned to the "Application", "Management" and "Technical" roles.
This is to ensure all key functions within the Portal can be performed by team members within your organisation. All roles could be assigned to a single contact if required (this is not recommended for separation of duties reasons).
You will not be able to request changes unless these key roles have been assigned.
Editing an Existing Contact's Roles
For each contact listed, you may add, remove and alter roles using the various fields available, as shown below: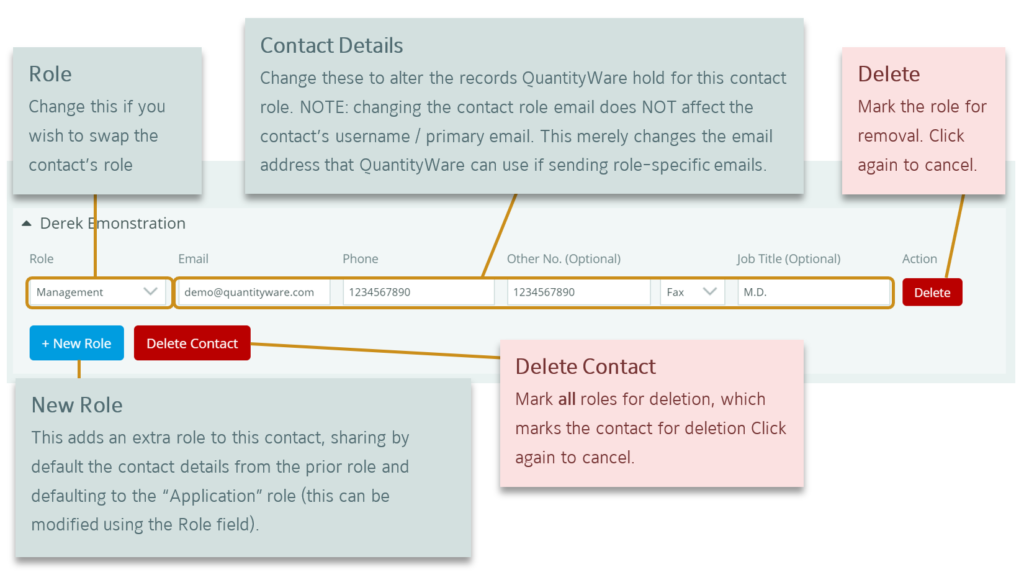 Adding a New Contact

To add new contact:
Click the "+ New Contact" button at the bottom of the existing roles list
The new contact record will be displayed (see right).
Enter the name of the team member
Click "+ New Role" to add a role to the contact
Follow the guide in "Edit and Existing Contact's Role" above edit / add new roles
New Contact Email Address
The email address of the first role added for this new contact will be used as their primary email address / username.
Take care to ensure this email address is accurate, as otherwise the user will not receive an account activation email once your request has been processed.
Deleting a Contact
To delete a contact, remove all the roles assigned to that contact, either one-by one using the "Delete" button, or all-in-one by clicking the "Delete Contact" button.
To cancel the deletion, click "Restore" / "Restore Contact" (as appropriate) before requesting your changes.
Contact Data Deletion
When a request containing contacts flagged for deletion is processed, the contact's user record is archived in the Portal and all personal data for the contact is deleted from the Portal database (name, email, job title, contact info etc.).
Making the Request
Once you have made all required changes to the contact roles for your organisation:
Click "Request Changes" in the Action Bar
Your contact role changes will be validated and, if there are no issues, a ticket will be automatically raised with the QuantityWare team requesting your changes.
After a few moments the page will refresh, and you'll see a message to confirm that your request has been sent, along with a link to the Ticket itself (should you wish to add any further comments). Additionally, you will receive an email to confirm that your ticket has been raised with the QuantityWare team. You can view the ticket at any time via the SupportCentre.
Request Processing
Whilst waiting for the request to be confirmed, the Contacts Manager will show a read-only list of the existing, active contact roles and the requested contact roles.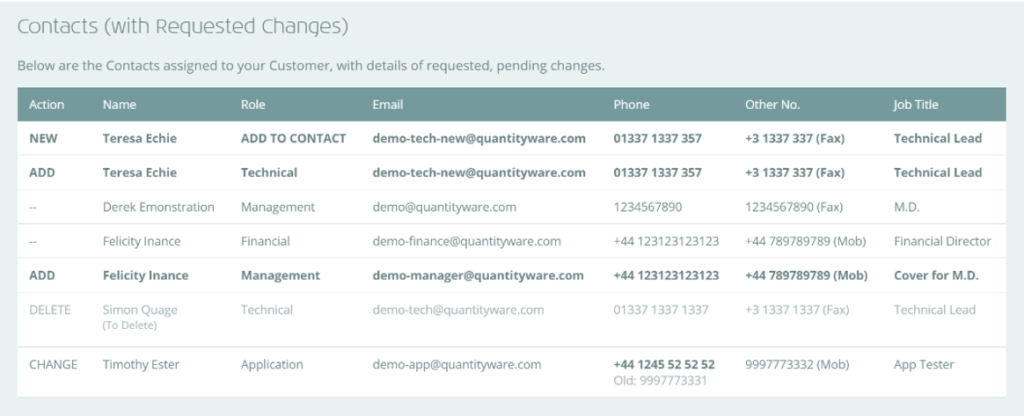 In the example to the right, we performed the following request:
Add a new contact, Teresa Echie with a Technical role
Add a Management role to Felicity Inance
Delete Simon Quage
Change Timothy Ester's phone number
The QuantityWare team may have queries relating to your request. If they do, they will reply to your ticket and you'll receive an email notification. You can reply to the ticket via the SupportCentre to respond to any queries. After any queries are resolved, the QuantityWare team will confirm the implementation of the request.
You'll receive a confirmation email when the contact roles change request has been implemented. Any new team members included in your request will have Portal user accounts created, and a "welcome" email will be sent to their email address (with a link to activate their account).
Canceling the Request
If you made an error in your original request, you can either add a comment to the ticket to explain the error and request a change or cancel the request before raising a new one. To cancel the request:
Open your Contact Changes ticket (see SupportCentre for details on opening tickets)
The Contact Changes ticket will be displayed.
Click "Cancel Request" in the Action Bar